Year 6 Beech
Curriculum Overview 2018-2019
Curriculum Overview - Autumn Term 2018
Curriculum Overview - Spring Term 2019
Curriculum Overview - Summer Term 2019
Newsletters
Beech Class - Summer Term Newsletter 2019
Beech Class - Spring Newsletter 2019
Beech Class - Autumn Newsletter 2018
Letters
Useful Links
Photos
Summer Term
Movie Night
We organised a movie night for the whole school to help raise money for our enterprise project.
Health and Fitness - Creativity Week
| | | |
| --- | --- | --- |
| | | |
| Playing Rounders | We created life-size diagrams of the Cardiovascular System. | Using 'Clips' on the iPads to create an informative video about the Cardiovascular System. |
| | | |
| Finding the key-features of an explanation text in preparation for writing our own about the Cardiovascular System. | Playing French Cricket. | Caterpillar Rounders - all the batters run. |
Mecredi Magnifique
We spent a day learning about French food during our Fabulous Friday. We tasted some French food and then made our own labelled supermarkets.
| | | |
| --- | --- | --- |
| | | |
| Using Kahoot to answer questions about famous Inventors. | We made our own Kahoot quiz about Tim-Berners Lee and then hosted a class quiz. | Exploring properties of 3D shapes in maths. |
Bridgwater Food and Drink Festival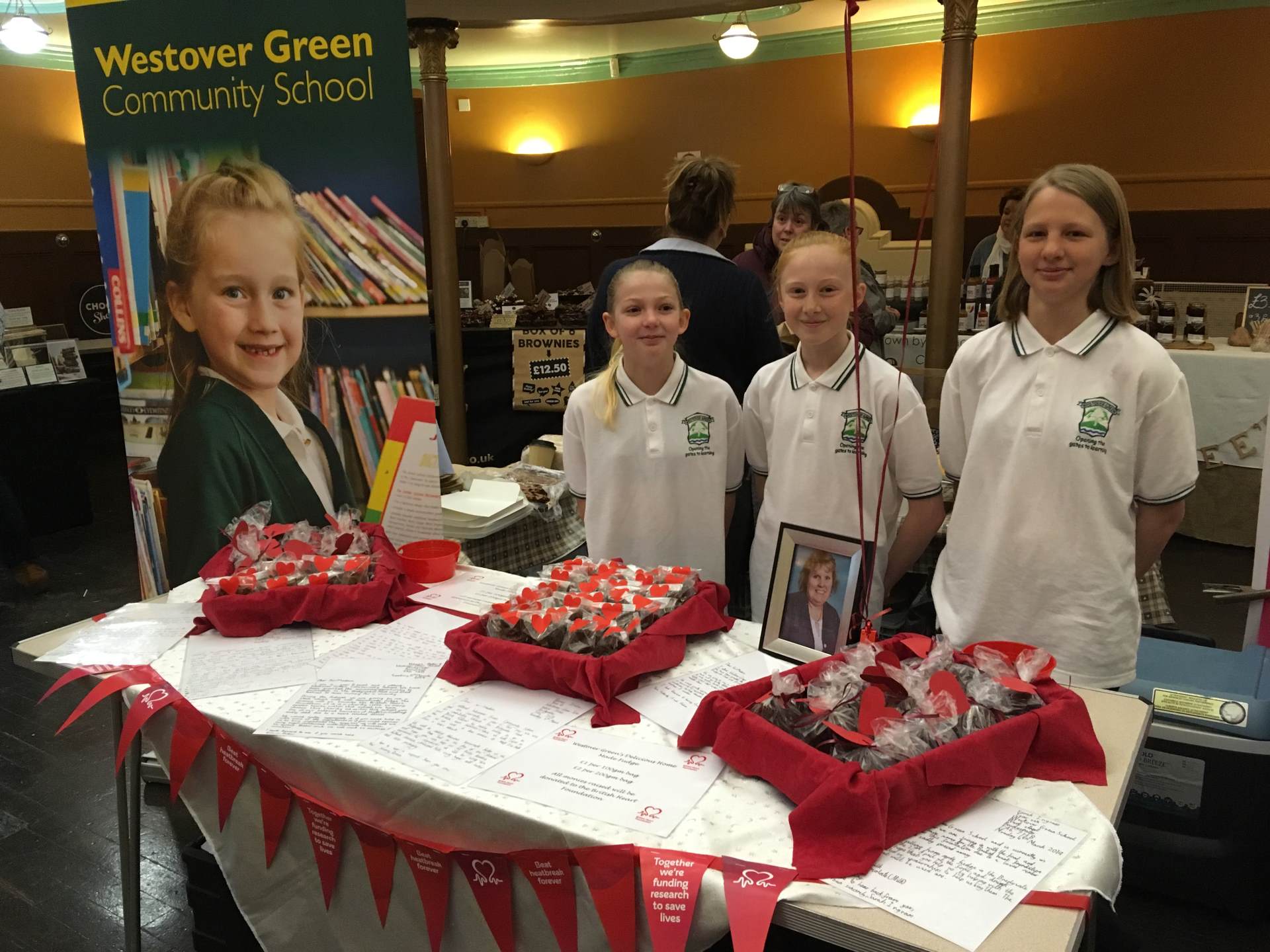 This is our stall at the Bridgwater Food and Drink Festival. We decided to sell fudge to raise money for the British Heart Foundation in memory of Mrs Godfey, a member of Year 6 staff who sadly died this year. Here is the quote from their website after the event: "A few months ago we approached Westover Green School with a new fund raising project. We kick started the money pot and it was up to the children to send out letters asking for donations. We are so happy to have been told that they raised £270.00 from having a stall on Saturday selling fudge with all the money going to the British Heart Foundation. A massive well done to everyone that was involved with this."
Inventions and Discoveries - Our Learning Loops
| | | |
| --- | --- | --- |
| | | |
| Algebra Problem Solving | Jigsaw Bunting - Dreams and Goals | Making Easter Wreaths |
Spring Term: Inventions and Discoveries
We completed some research

about Rosalind Franklin and

found out she discovered the

Double-Helix structure of DNA.

We completed an

experiment to

extract the DNA from

strawberries. We did this by

mashing them and using

a special solution to help

separate the DNA from rest

of the cells.

We had to carefully

strain the liquid using

a filter. The DNA looked

white strands on the

top of the liquid.

Finding all the possibilities

- Counters in a Bag.

Finding all the possibilities -

Beads on a Necklace.

Finding all the possibilities -

Hockey Game Scores

Finding all the possibilities -

Coins to pay for balloons.

Playing equivalent fraction,

decimal and percentage

Top-Trumps.

World Book Day 2019

Orienteering to find

different ciphers to

decode.

Finding out about Alan

Turing and Joan Clarke -

Using a cipher wheel to

crack the code.

We have been practising

our netball skills during

PE lessons.

Grouping verbs into their

tense forms.

Warming up ready for our

onesie mile as part

of our enterprise.

Practising 'The Cup Song'

during music lessons.

Learning about how to

programme Spheros during

computing.

Programming our Spheros.

We managed to get our

Spheros to change colour,

direction and make sounds.
Creativity Week
Our Creativity Week during the Spring term had a multi-cultural focus. In Beech Class we found out about historic and modern Benin.
We created some traditional

Benin Weaving.

We tasted some tradition

Benin food: stew, beans,

rice and couscous.

We used clay to

re-create Benin

sculptures.

We boxed up a tradition

Benin myth and used

these to write our own

play-scripts.

We used iPads to film

our Benin Myths and

edited them in iMovie.

We worked in

groups to create a

timeline of Benin.
We listened to some traditional Benin drumming. We then used djembes to compose our own rhythms and perform them in a drum circle.
Spring Term: Inventions and Discoveries
Here are some of the thing we have been learning during this term's topic.
We researched famous inventors to become experts in them and teach the rest of the class about what we had discovered.
We investigated how the brightness of bulbs changed depending on the number in a circuit.

We experimented with loops on Garageband.

We shared our loop re-mixes, that we composed using Garageband, with the rest of the class.

We use place-value counters to learn how to multiply decimals.
In science we have been using different electrical components to make simple circuits.

In art we painted sunset backgrounds for our bridge landscapes using water-colours.

We learnt about

Ada Lovelace and

Charles Babbage and their contributions to computing. We then tried writing using binary code.

We had to work in teams to crack the code in a binary problem solving activity.

We worked in groups to try and work out the combinations on the locks by reading the binary codes.
'We The Curious' trip to Bristol
We visited to the science museum 'We the Curious' as an introduction to our inventions and discoveries topic. During our visit we were able to explore the museum as well as taking part in a robotics workshop.
Interactive

Lights and Sounds

Sand Art
The Evolution of Man

Experimenting with

lasers

Animation
Bubbles

Making and testing

parachutes

Optical Illusions

Programming our

Robots

Testing our Robots
Robotic Arm
Robotics Workshop
Autumn Term
Here are some of the things we have been learning about during this term's topic.
English - Examples of DADWAVERS

Experimenting with light and

finding out the direction

light travels in.

Filming using iStopmotion

Stop Motion animation of our

Christmas Scenes
Mexican Day of the Dead...
| | | |
| --- | --- | --- |
| | | |
| We wore traditional Day of the Dead costumes. | We baked sugar skull cookies. | Tissue paper flower decorations. |
| | | |
| Planning and writing an information leaflet. | Mexican tin art. | Quilling sugar skulls |
| | | |
| Creating straw skeletons. | Making tissue paper flowers. | Making tissue paper skulls. |
Fabulous Friday
This time we were given a box! Here's what we did with it...
| | | |
| --- | --- | --- |
| | | |
| Ideas of how we could use our box | We decided to use the box to make scenery for stop motion animation. Here we are starting to make our scenery | Christmas Scene for Stop Motion Filming |
| | | |
| Scene for Stop Motion Filming | We used Lego figures for our characters | Practising filming using iStop Motion. |
Autumn Term: Mexico
Here are some of the things we have been learning about during this term's topic.
| | | |
| --- | --- | --- |
| | | |
| PE - Circuits | PE - Planking in Circuits | Creating a light pyramid during science. |
| | | |
| Tasting and evaluating different Mexican foods to inform our Taco designs. | Designing and making tacos | A finished taco. |
| | | |
| Making Aztec settlements | Our Mexican learning loop. | Maths problem solving. |
| | | |
| In science we have been learning about Linnaen classification. Here is the start of one of our classification trees. | Researching plastic pollution as part of eco-week. | A group homophone poem. |
| | | |
| We set up experiments to investigate the best conditions for microorganisms to grow in as part of our variation and classification science topic. | During RE we discussed suffering. Here we are writing questions that we thought of when looking at these pictures of suffering. | Ukulele lesson - composing using open strings. |
Charterhouse 2018
We had an amazing time on our Year 6 residential trip to Charterhouse. Here are some of the things we got up to...
| | | |
| --- | --- | --- |
| | | |
| Caving | Archery | Bog walk |
| | | |
| Entering the cave | In the cave entrance. | Night walk on the Mendips |
| | | |
| Rescuing our lost wellies | Shelter building | Team building games |
| | | |
| Team games | The view of Cheddar Gorge on our 8 mile walk! | After the bog walk. |